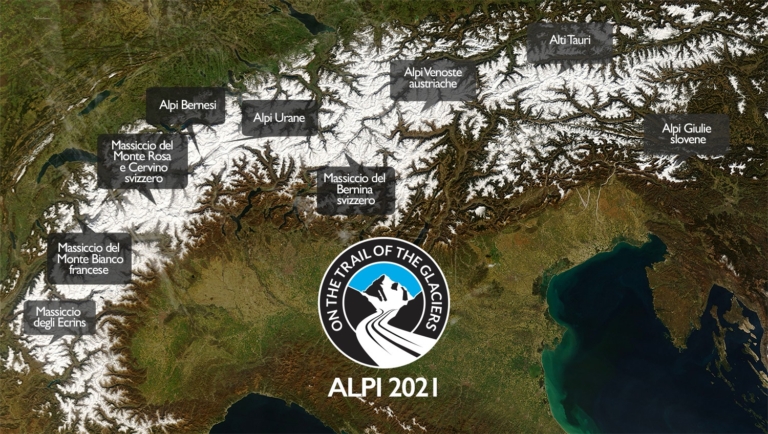 From 6 August to 6 September, the photographic-scientific team will travel across the Alpine slopes of France, Switzerland, Austria and Slovenia. 
After the 2019 and 2020 expeditions on the Italian side of the Alpine chain, this summer the team of photographers, researchers and filmmakers of the project "On the trail of the glaciers" will move along the French, Swiss, Austrian and Slovenian slopes.
"In order to monitor the enormous Alpine glaciers and get a truly complete picture of their state of health," says Fabiano Ventura, director of the "On the Trails of the Glaciers" project, "we have planned "Alps 2021" the second mission of the "Alps 2020" expedition.
With this expedition, departing next August 6, the field phase of the project "On the trail of the glaciers", started 11 years ago, in 2009, will be definitively concluded, thanks to which the largest archive of photographic comparisons of mountain glaciers of the entire planet has been created.
This year, the team will be travelling along a wide itinerary, starting from the Ecrins and Mont Blanc massifs, passing through Monte Rosa, Cervino and Bernina (Swiss side), the Austrian Ötztal Alps, the Alti Tauri and the Slovenian Julian Alps, repeating historical shots and carrying out scientific research in the field thanks to the collaboration with various scientific institutions.
"The objective," says Ventura, "is to complete the creation of the most consistent archive of photographic comparisons of Alpine glaciers that has ever existed, monitoring the variations of the glacial masses over the last 170 years thanks to the discovery of photographs dating back to before 1850″.
The group will only use environmentally friendly transport.
The iconographic research of the historical images of the Alps, which began more than three years ago, has involved more than 150 archives of European museums, foundations, geographical societies and libraries.
Once again this year, all real-time updates (photos, videos and texts) will be published on the project's official website at the followed link: https://onthetrailoftheglaciers.com/expeditions/alps-2020/